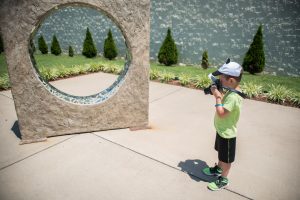 Kids and Photography… (hang in there, the roadtrip part is toward the end of this post). With the advent of digital photography being in the hands of just about everyone via smart phones, tablets and digital cameras, the world of photography is in the hands of many kids starting at an early age. I personally have been photographing most of my nieces and nephews since the day they were born, even more so for their kids and their kids kids. As a result the youngest ones, my great-greats, started reaching for my camera or smart phone from a very early age.
About a year ago I started a project with my oldest little ones and photography. I decided that, once they turned four years old, I was going to get a camera that they could use and start taking them on photography adventures where I'd go with them in a one-on-one situation. It's been a wonderful trip with the three oldest among my great-great nieces and nephews that live in my area.  Going out shooting with them and seeing the world from their viewpoint has been a blast.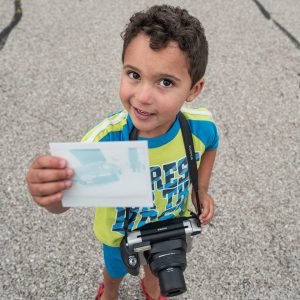 I started the three of them out sharing a Fuji Wide Instax, a Polaroid type instant camera. I wanted to have them use something that would give them a tangible print that they could hold in their hand and watch develop, much like many of us older folk did when we were kids. I feel that has helped them enjoy shooting photos more. I also got each of them a photo album to keep their pictures in so they can share them with family and friends. All three of the boys, Xavier, Jayden, and Damion have moved on to shooting a digital camera lately.
Now, the instant camera is in reserve for our next young photographer, Elaina, who turns four in July. Damion, her brother, still wants to shoot with the instant camera sometimes, but at $1 per photo I've  decided to move him and the others more into the digital realm. This way they can zoom and take as many photos as they want. I just make sure and get 4×6 prints of the best of the photos they shoot by the next day and give them to them for their photo books. I really can't stress too much how important I feel this is. For the young photographer to have an album to thumb through, to relive and to share his or her adventures in taking the photos is very important. If the image sits on the camera, which they need to have adult supervision when using, or on a laptop that they can't use without an adult, it's hard for them to go back and look at their pictures whenever they want to. I feel having easy access is a very important part of their growth in this visual world!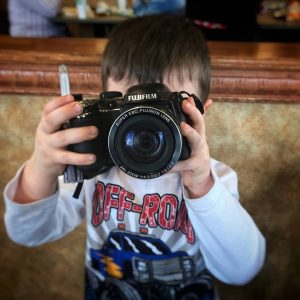 Now, they are 4-5 years old and, with this in mind, I didn't want to start them out on a expensive digital point and shoot camera. I've worked with them on handling the camera carefully and to keep the camera strap around their neck when they use it and they all three do a good job, but still, they are kids!
I shopped around our local pawn shops and found a lightweight Fuji camera, with a viewfinder and LCD screen, they could use that wasn't real expensive. I wanted the viewfinder as that's what they were used to with the Instax camera. I paid $50 for a Fuji FinePix S4250 which is a 14mp camera with a 24x optical zoom. It only weighs a pound and is just the right fit for small hands! They've been using it for about six months now and it's still working great, with limited drops! I just looked yesterday at a local pawn shop and they had one just like it for $30. I think if you shop around you can find something in the same price range.
I've been showing the kids copies of the pictures I shoot of them, pretty much their whole lives, so they've been exposed to what I consider photos with good composition for sometime. On the shooting and direction aspect of kids shooting photos at a young age, I've not tried to guide them a whole lot when it comes to composing their photos. Occasionally I might recommend they move in a little closer or perhaps stand in a different spot but, for the most part, I don't look over their shoulder, point the camera for them and tell them when to press the shutter. I feel if I do that, it's not really their picture they're shooting. Do they always come back with what I think might have been the best photo? No, of course not, none of us do when we first start out in photography and many of us still don't even after doing it for 40+ years, like myself!
As their photo editor (haven't started the post production with them yet) I do occasionally crop their photos (digital) and make other minor corrections in editing, but for the most part the photos they shoot are theirs, the way they saw them.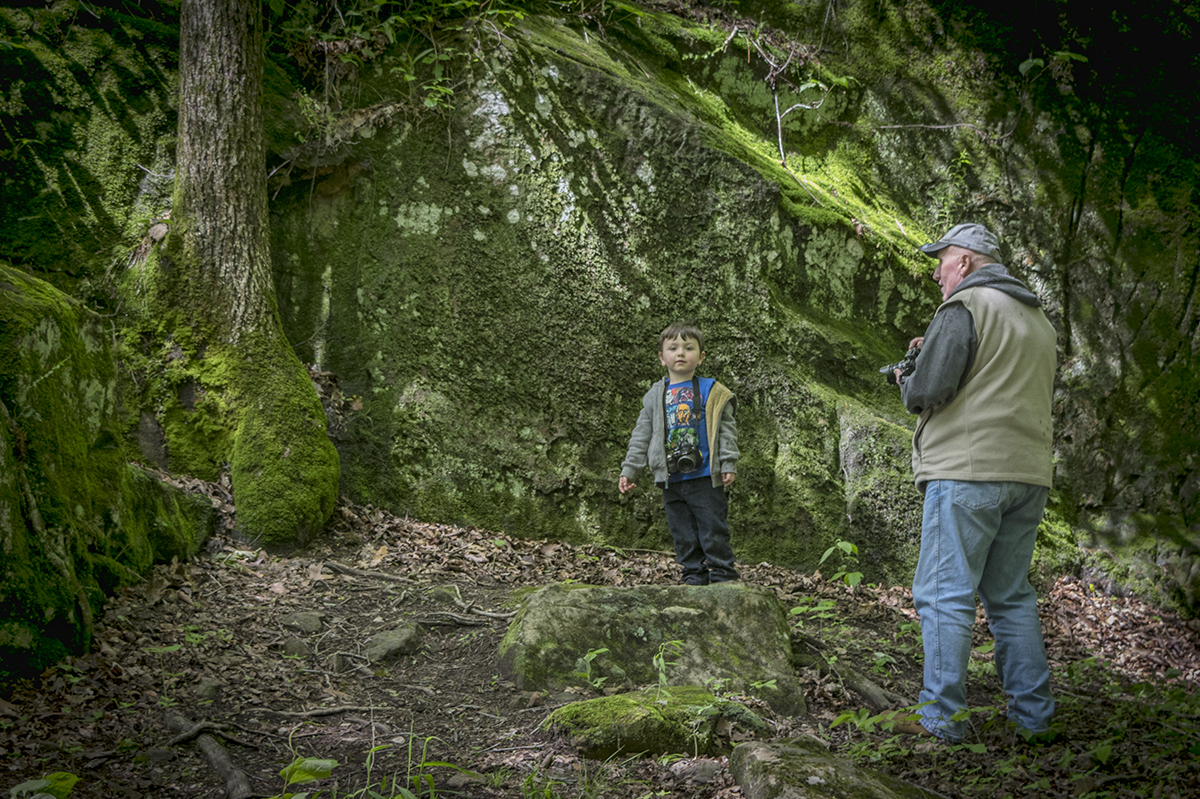 And, now, the Roadtrip…. Recently my sister, April, and I took Damion with us to the Spring Photography Weekend at Pennyrile Forest State Resort Park in Dawson Springs, Ky, for his first photography competition in the children's division. We all three had a blast! We're planning to take Jayden to the Fall weekend there and then Xavier next Spring for their first "competition." Getting the kids out shooting where other kids are involved I think is just another step in their adventure with photography.
Damion loved exploring and capturing photos along the way during the weekend. He told us that he hoped he'd win a trophy and he did!! First place in the landscape category and a third place in the water category! Not sure who was prouder, him or us! What he referred to as "Secret Caves," were among his favorite spots, along with the waterfall, and his "Secret Steps" which is the photo that won him his first place trophy. I love the fresh viewpoint that the young kids have with their photography.
Where do I hope the kids go with this photography thing? Well, my hope mostly is that they have a love for photography and the world it opens for them.  So, when to start your young photographer out? I personally picked 4 years old, but you can start them whenever you feel they are old enough so that you can communicate with them, when they can understand and follow simple directions.  So that you can converse with them and they can understand you and you them!
Below are Damions two winning images from his first photo competition.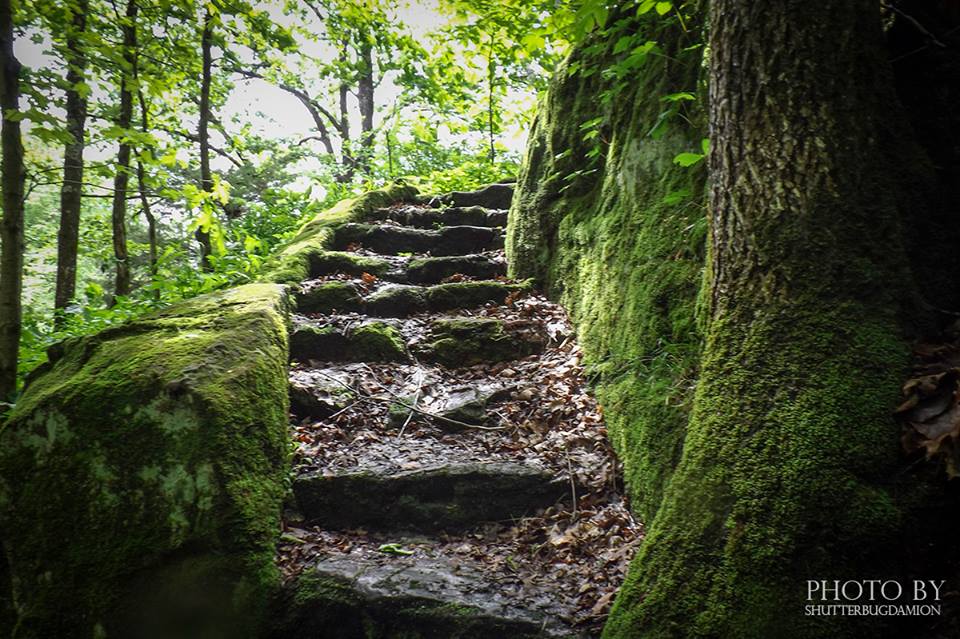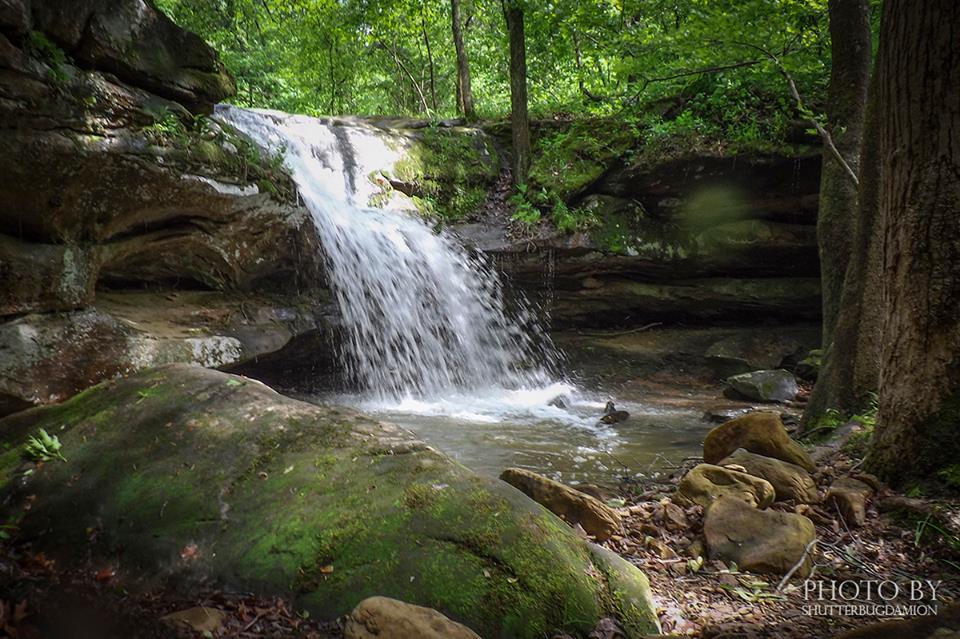 If you'd like to follow the Shutterbug Kids, they have their own Website, Facebook and Instagram pages all maintained by me, their uncle Jimmy. Below are links to each of them. The boys aren't directly involved with the social media aspect yet, although they do ask if I'm going to put their picture on Facebook sometimes, so they are aware.  That lesson will have to wait a few years, but they really enjoy seeing their pictures online.
Damion
Jayden
Xavier
In closing, get out with your little ones, make memories and capture them together! You'll be happy you did and they will as well!